It's Important to Select the Best Ratchet Straps!
The best way to choose one product over another is to be smart about it. Buying a car or truck? Test-drive it. Ordering a trailer? Check out the specs. Buying ratchet straps? Examine the quality of their strength and durability.
When ratchet straps work as expected, there won't be much to think about after putting them into service. But to enjoy that luxury, there's a lot to think about before deciding which brand of cargo straps to buy.
With their unmatched strength and durability, Kinedyne ratchet straps outwork other straps when securing cargo. Kinedyne beats the competition thanks to a proprietary combination of strong webbing and durable hardware that gets the job done quickly, easily, and safely.
To be sure, not all cargo control products are the same. Quality varies by manufacturer. Key differences become apparent when we compare the Kineydne ratchet strap to those of two competitors.
Watch this video to see why you should choose Kinedyne Ratchet Straps over competing Manufacturers.
What's a ratchet strap without its ratchet buckle? All Kinedyne ratchet straps are equipped with a standard long or wide handle designed with user-adaptability in mind. These gold chromate, heat-treated carbon steel ratchet buckles are molded to fit the contours of your hand for ease and convenience (Some are even wide enough to accommodate your gloved hand). Coated in a zinc-plated finish, our ratchets are corrosion-resistant, so they'll fasten your load down tighter and longer.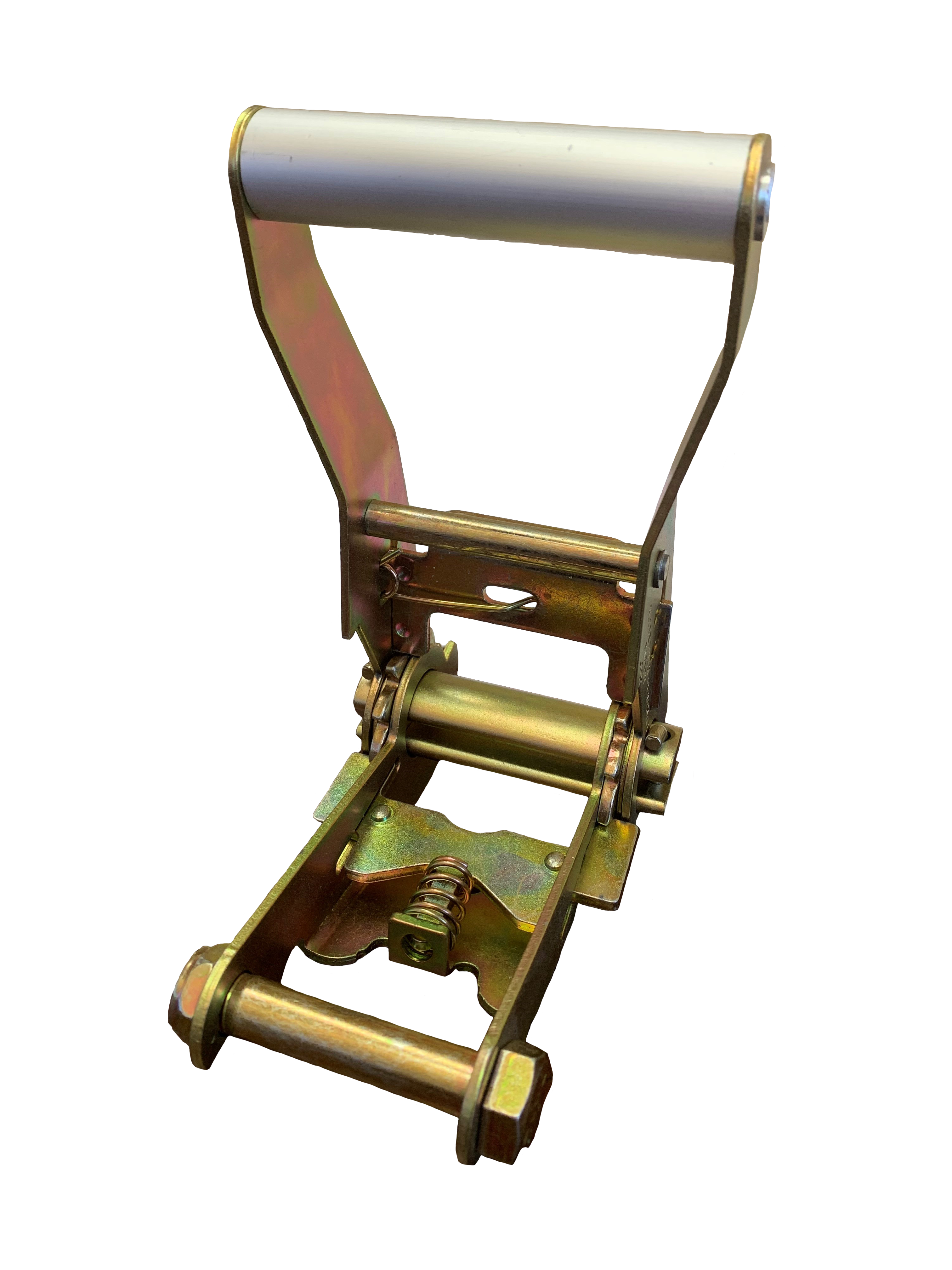 The first thing you'll notice is that the Kinedyne ratchet buckle uses more steel than the others. Kinedyne's ratchet steel is 35 percent thicker than the competitors'. More steel equals greater durability for longer service life. Kindedyne's ratchet buckle components, such as the release handle spring, locking pin, and ratcheting spring are all heavier than those of other ratchet straps. In total, the Kinedyne ratchet buckle weighs 2 lbs, 6 oz., which is 31% more than the others.
Plus, Kinedyne adds additional components like a washer on the side of the sprocket to help it work more smoothly. Kinedyne also includes other customer-centric details like the unique anti-rotational ratchet handle that helps prevent the strap from binding or twisting while under load.
You can easily feed our flexible, strong 2", 3", or 4" polyester webbing through the ratchet's mandrel and then fasten the two end fittings to the anchor points for an indirect tie down over cargo.
Once the ratchet straps are directly where you need them to be, you'll pump our heat-treated carbon steel ratchet handle to effortlessly tighten the straps down over the cargo with a viselike grip. After the straps have been properly tensioned, you then lock the ratchet in place, keeping your load contained and secured. That means no more stopping every few miles to check that straps haven't come undone.
Kinedyne end fittings are made of heat-treated carbon steel that reinforces their durability while also enhancing their strength. They're designed to easily slip into and stay connected to their designated anchor points for tight and reliable tensioning.
Flat Hooks are one of the most commonly used end fittings. Ours are genuinely flat and can be fastened to nearly any flatbed side rail. Our heavy-duty 4" ratchet straps are equipped with a flat hook with an abrasion clip to help protect the webbing from wearing down along the hook.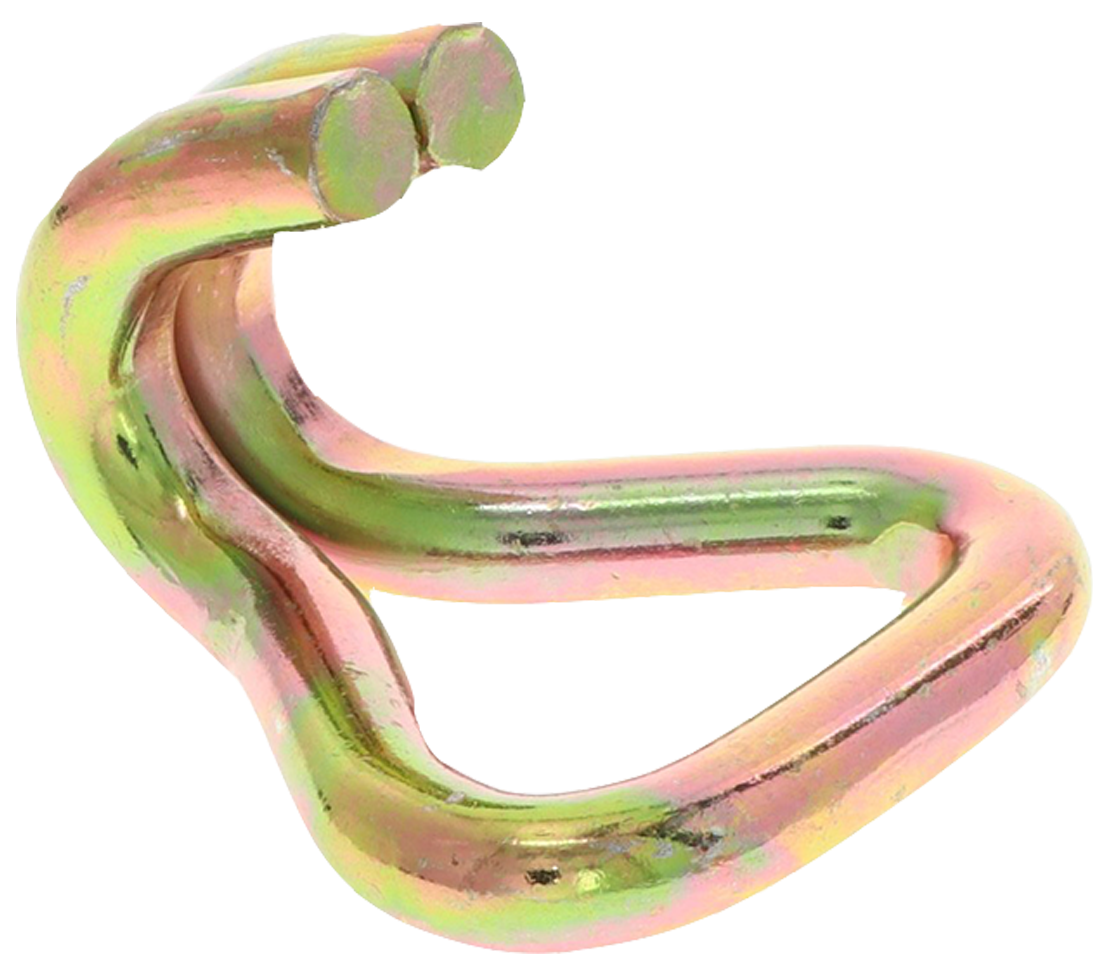 If you're looking for an end fitting for narrower anchor points, then our slim wire hook end fittings are the best choice. Coated in a zinc-plated finish to help prevent corrosion, these hooks can squeeze into those narrower attachment points that are harder to reach with other types of end fittings.
Kinedyne's wire hooks are 10% thicker than competitor hooks, which contributes to the overall durability and strength of the cargo control assembly.
The strength of Kinedyne ratchet straps also derives from our heavy-duty, extra durable webbing. A few differences between the Kinedyne cargo strap and the others quickly stand out. Kinedyne's webbing is slightly heavier because we use three strands of 1000 denier webbing while many other manufacturers use just a single strand of 2600 denier. This gives our cargo straps 15% more yarn and ultimately makes the webbing stronger and more abrasion-resistant.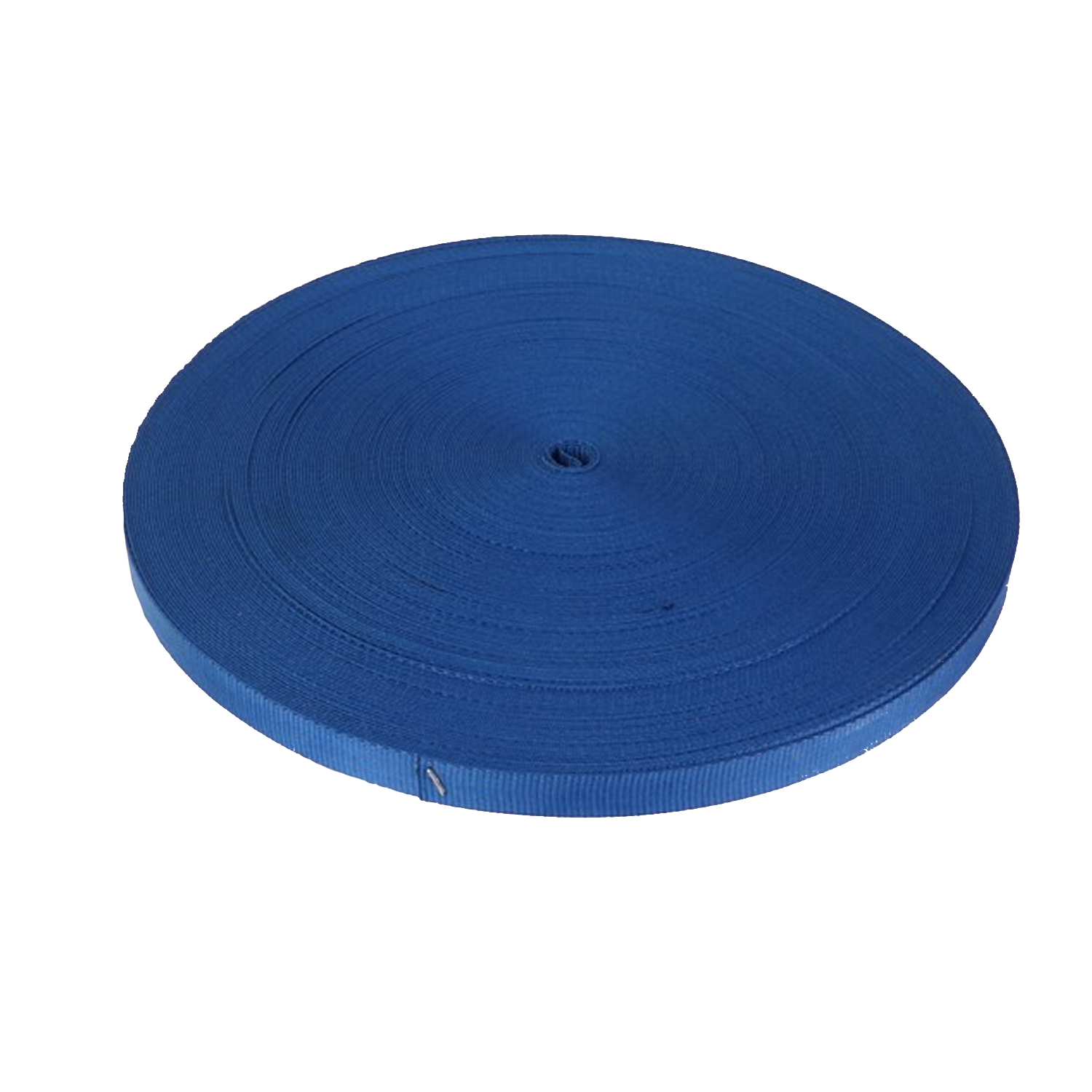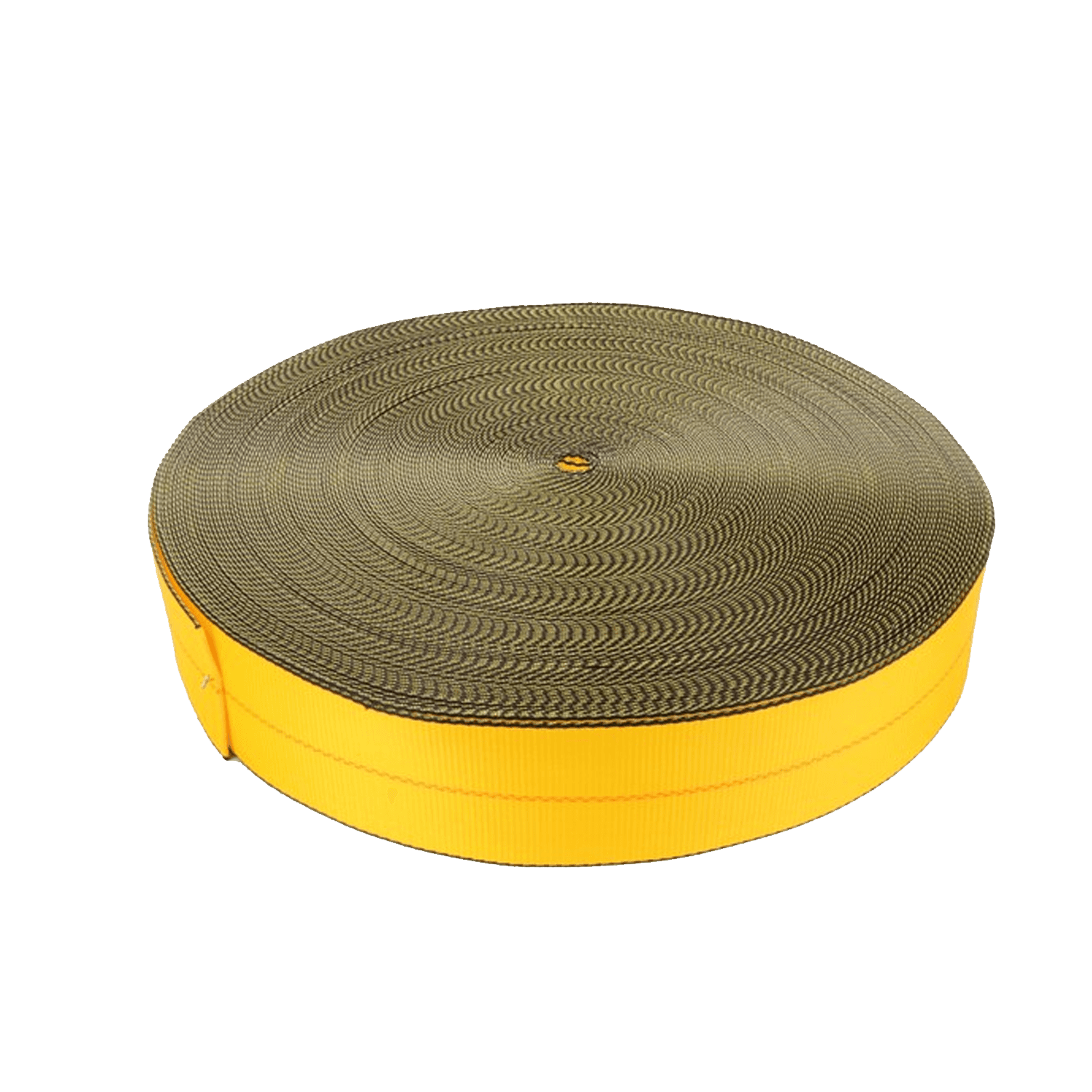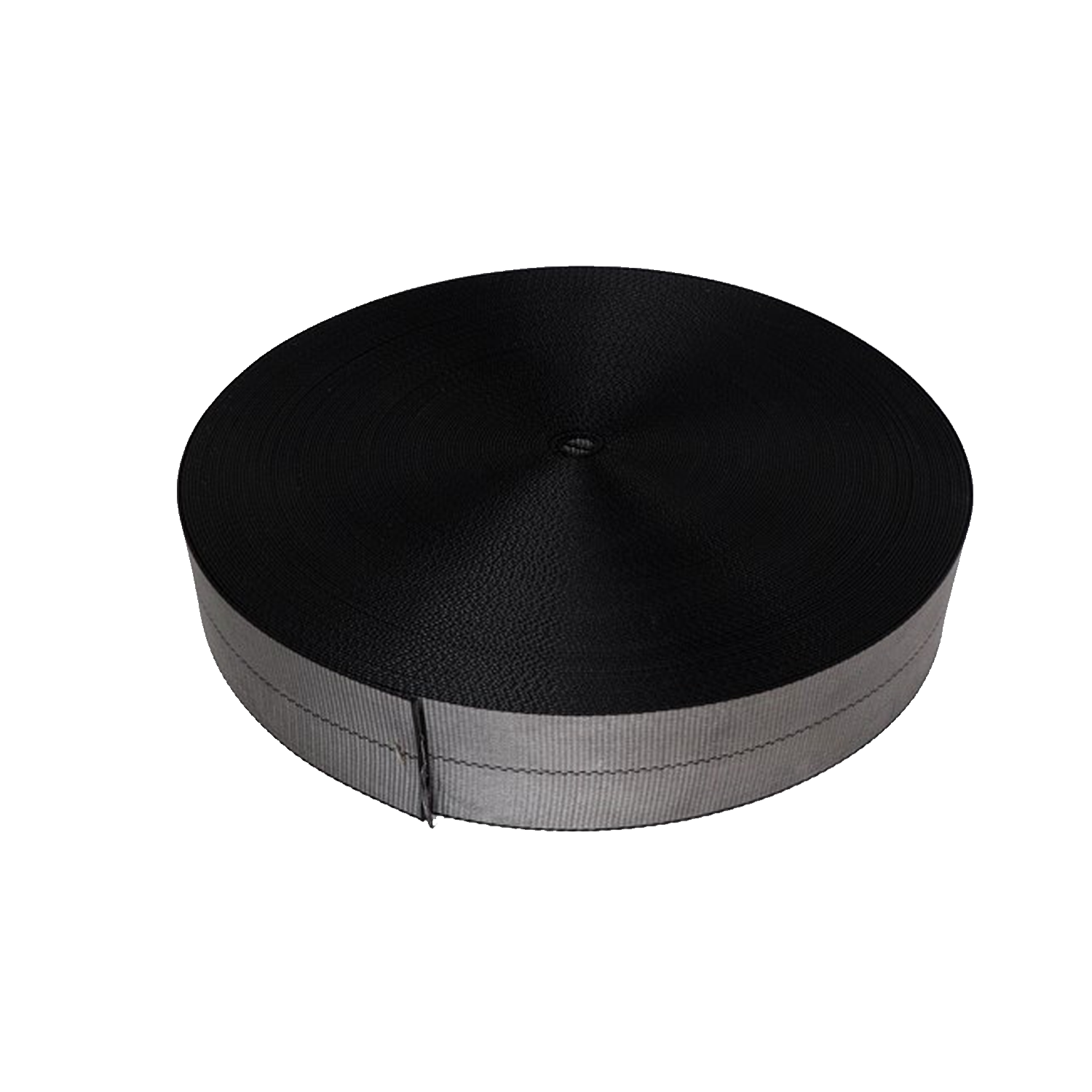 What's more, Kinedyne's proprietary weaving is engineered to reduce the space between the fibers of the webbing creating a tighter weave. That helps prevent UV damage and penetration by water, chemicals and road debris. Not only that, but mold, mildew, and rot are much less likely to wear down the straps. Kinedyne's tighter weave also results in less stretching, keeping the ratchet strap tighter, safer, and more secure. Kinedyne is also one of the few manufacturers that stencils the working load limit directly on the webbing in addition to printing it on the tag.
Unlike stretchy nylon or inflexible polypropylene, our high-quality polyester webbing naturally offers minimal stretch, keeping our ratchet straps as sturdy and firm as the day they were made. Rest assured that when you buy a Kinedyne 2" x 30' ratchet strap, it's going to stay 2 inches and 30 feet for a considerable amount of time-- despite the number of times you use it to tighten down a load.

Our K-FORCE Ratchet Straps are engineered to manage heavier loads, thanks to more polyester material in the body of the strap. With a tightly woven polyester thread, K-FORCE Straps are designed to take on more challenging tie-down jobs that could otherwise cause some damage to a standard strap.

We invented the stronger and more resilient Rhino MAX brand for the toughest tie-down requirements. With a working load limit of 4,000 Lbs. / 1,814 Kgs., Rhino MAX ratchet straps are 20% stronger than the industry standard of 3,335 Lbs. / 1,513 Kgs. An anti-abrasion chemical coating makes it hard to mar this webbing, even if faced with rough cargo such as bricks, timber, and concrete.
Kinedyne manufactures all its products to ensure quality and durability as well as to help drivers safely secure light- to heavy-duty cargo loads. Our ratchet straps are also engineered with enhanced durability to keep a strong, tight grip over the load with maximum wear resistance.
No matter the size or shape of the load, Kinedyne ratchet straps have the flexibility to safely secure all types of cargo with the quality you can trust.